British Record Cod – The UK Cod Record – Caught From Whitby
UK Record Cod – Sea Trek Now Shy torque
Cod Record – Caught From Whitby
I was recently lucky enough to obtain a picture of the UK Record Cod. I had noticed there was no online record of the capture and so I went in search of a photograph and the story behind it.
The record for the heaviest cod caught in Uk waters is held at Whitby. The monster cod – a massive 58 pounds 8 ounces was caught from association boat Sea Trek back in 1992.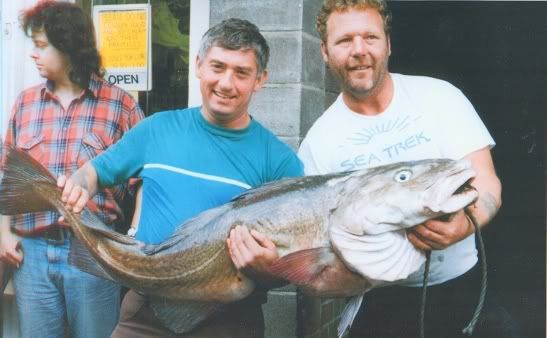 Above : Angler Noel Cook with Sea Trek Skipper Stu Johnston showing off the heaviest cod ever to be taken on rod and line in British waters.
Noel's record cod was caught on a piece of ground in the inshore waters off the coast of Whitby. This was quite a rare occurrence as more often then not the bigger cod come from the many wrecks which dot the sea bed off the coast of Whitby. The capture of such a fine specimen so close to shore and the many great catches made before and after this one on the charter skippers association boats really illustrates that you do not need to go to the back of beyond to catch the real big fish at Whitby. In recent times cod to 30 pounds have been taken even closer to shore with several falling to light uptide fishing no more than 500 yards off the coast. Whitby really is the cod mecca of the UK.