The Shakespeare 'Salt' rucksack.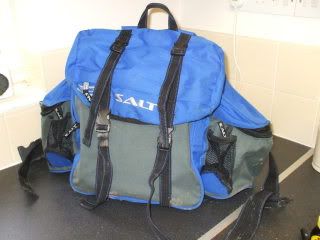 After owning and using a Shakespeare 'Salt' rucksack for 6 mths I've decided to put pen to paper and share my thoughts here.
It's aimed at the sea angler who needs to carry a fair amount of equipment for a lengthy session where a seat box would be impractical to carry. If you are the sort who likes to scramble down cliffs or walk miles to your chosen venue this could be for you.
The rucksack is made of a tough canvas like material and comes in the usual bright blue to match other Shakespeare luggage. It's advertised as having an 80ltr capacity, which probably doesn't mean a lot to most readers but let's just say that's more than enough for most anglers. I'm sometimes guilty of carrying too much but have never yet found this couldn't accommodate everything I wanted to take. I don't think Shakespeare actually say it's waterproof but in my experience unless you drop it in the sea it's waterproof enough to withstand a heavy storm.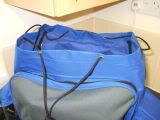 There are 5 basic storage areas. The large main compartment has a drawstring top and is big enough to take the kitchen sink, on the front is a slim zip fastening compartment ideal for storing thinner items like rig wallets etc.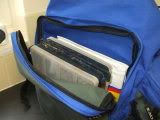 The top flap has another small zip up compartment which is ideal for storing smaller personal effects like mobile phones etc. Finally at either side are 2 deceptively roomy pockets to store reels, each will hold 2 standard sized sea multipliers or one large fixed spool reel and are great for storing lead weights. There are additionally 2 small outside mesh holders to take a drinks bottle, though these are small and will not hold a flask.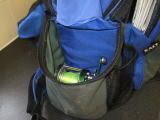 The shoulder straps are genorously padded and offer a wide range of adjustment to suit all body types. A waist belt is attached at the base allowing you to keep the rucksack close to your body and help bare some of the weight if it is heavily loaded.
On the lid are 2 external straps allowing you to secure other items like a tripod or fold up seat on the outside if you so wish.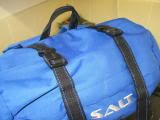 The build quality is excellent, the material is tough and doesn't tear, all seams and stitching appear very strong, the usual plastic clip fastenings and adjusters are well made, zip fasteners don't jam even after exposure to sand and water.
By comparison to a a standard non fishing rucksack its wide but not high, presumably this keeps the centre of gravity down making it (and the wearer) feel very secure when climing over rocks and uneven ground. You wouldn't think it would feel any different to any other 80ltr rucksack but believe me it does, using this I feel happier walking further  or going to less accesible venues than I ever did with a 'normal' rucksack costing 3 times as much.
I know it looks in the photo to be too big for scambling cliffs etc but this thing is easier to carry and more stable than something half the size.
To be honest (and I have no links with Shakespeare) I can't fault this bit of kit, it seems it's been designed by angler who knows what people want and not be some guy in an office who's never seen a fishing rod.
If you are looking for a new rucksack get your 15 quid out and treat yourself to one of these, or get the missus to buy you one for Christmas,  you won't regret it.