A Quality Sit On Top Fishing Kayak. The Dorado has been designed to satisfy the most demanding of anglers and still maintain the paddling efficiency of a proper sea kayak.
This is a specialist fishing kayak that can be used for accessing offshore reefs in pursuit of big fish and also for touring trips to remote locations with her impressive load carrying capacity of 180 kgs, that is a big paddler and over 1cwt of gear.
The Dorado provides excellent comfort, stability, efficiency and the ability to handle extremely rough conditions with ease.
The unique design separates this fishing kayak from the rest. The deck is securely bonded to the hull, IN THE MOULD, to prevent any distortion and then reinforced with both an internal and external seam providing immense strength.
For additional safety the hull is divided into 3 separate compartments by the use of flexible, fiberglass bulkheads that do not break away in the event of a heavy impact or cause hard spots on the hull.
Besides the cavernous fish hatch this kayak has a cargo crate / diving cylinder holder, place for a fish finder and no fewer than 3 attachment points for an anchor or drogue coupled with the finest handling of any fishing kayak made.
The solid foot brace with pedal operated rudder is a standard item. With her fast hull, catching and using the energy in waves makes paddling long distances very efficient and I have done more than 50 miles in a day.
The Dorado paddles brilliantly in any open water situation and her amazing stability gives the newest of novices confidence from the outset.
The seat well in the Dorado has been carefully contoured to be comfortable for prolonged periods in the saddle. The deep, safe seating position with proper back support gives the supreme comfort of the cockpit.
12 hour shifts in the saddle are quite common during the summer months.
Practicality is another strongpoint of the Dorado. Within easy reach astern is the large, self draining well with its dedicated cargo crate. The sealed, fully gelcoated, easy to clean fish box is large enough to take a brace of 100lb fish with ease.
Access to this is right between your legs and it is long enough to stow a 9-foot, 2-piece rod. These are very welcome features not found on other fishing kayaks.
The rectangular access into the fish hold is also useful for keeping things that absolutely must stay dry both safe and close to hand.
Flush mounted rod holders, either side behind the seat, are angled so as to fish effectively either on the troll, or with static baits, but they keep the rods well clear of the paddling arc so as not to interfere with paddling ability.
Situated beside each rod position is a point for attaching a security lanyard to your valuable rod and reel. In addition, there is a loop on the foredeck to put the tip of a rod through with the reel resting on the semi-circular bait cutting surface in your lap.
This is very handy for a fly or spinning rod when you are only moving a short distance or want quick access to your rod when chasing shoaling fish.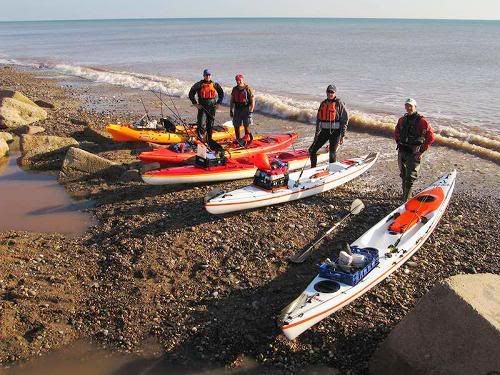 The Dorado is a purpose designed fishing kayak that rewards the owner with enhanced fishing pleasure through superior performance, superior comfort and superior practicality.
The advanced, grp sandwich construction ensures rigidity and strength with light weight. The Dorado is a fishing kayak designed and built by kayak anglers with over 30 years of experience.
Features
Description
Single sit-on-top fishing craft
Design
Leon Franken – 2004
Material?
Fibreglass
Length
4.8 m
Width
63 cm
Weight?
26 kg
Rudder
YES
Fish Hatch
YES
Hatches
1
Bulkheads
2
Max. carrying capacity
180 kg
Maximum depth (bow)
0.4 m
Depth at cockpit
0.3 m (average)
Construction
Hull
Advanced GRP Sandwich construction
Deck
Advanced GRP Sandwich construction
Seam Bonding of hull and deck with both an internal and external seam after in-mould joining of deck to hull.
Additional strengthening Around the carry handles, seat area. The bow and stern are heavily reinforced to resist enormous impacts.
Standard colours are white hull and white deck with orange trim. Please contact us for other colour combinations.
Forum Topics On Kaskazi Kayaks