Arrived is Scarborough north bay at about 10am to be greeted by rain mist and light winds. After a coffee at ducky's myself "kingfisher" Grawler, had more coffee down at the Oasis cafe waiting for the rain to subside. Grawler did not fancy a trip out so went back to ducky's and his unusually warm flat .
Suited and booted we were joined by spawney Dave, so the three of us headed out on to the water.
My new toy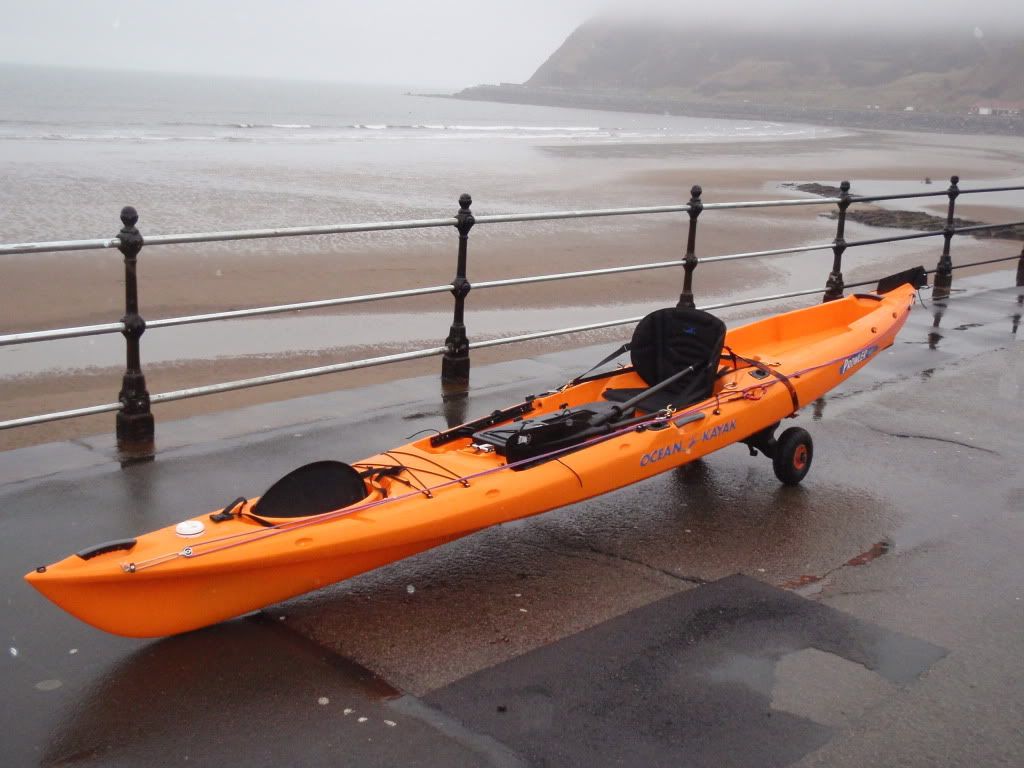 So it was time to find out what this new ride of mine could do. Having only paddled a P13 I don't have much to compare too in real terms.
Pushing off on the first stroke in to some small waves of about one and half foot which broke cleanly over the bow all the way to my lap and not in my face as some times happens in my P13.
When out of the surf zone  flipped the lid over to get the fish finder on-line. with out much effort I had was cruising at 3.9 knots but being of of shape it was not for long .
This is a lot faster ride than the P13, that much was apparent after just a few strokes of the paddle. It handled the swell in a good fashion riding very cleanly over with no slap.
It cocks quickly in to the wind like a compass needle. The wind was from the north and the swell from the east but no way did it feel tippy, very stable infact.
Paddling in a NE direction would have been a chore if I had not fitted the rudder or "adjustable skeg" if you prefer.
The sides are higher than the P13, but i did not feel that the seating position was any higher.
I tried a self rescue and failed miserably. After my third attempt I was Fu very tied  😉 and puffed out. I am totally out of shape and being on the wrong side too the wind and a bit of swell did not help, so asked "kingfisher" for assistance.
Newbies please note:- Paddled fitness is vital in this sport as is the ability to self rescue. It is only 12 weeks ago sine my last paddle and I had to do a self rescue for real with all the kit on the P13.
I was dumped recovering my anchor, on that occasion the yak was hull up and having to use the G.U.T. routine (grab upturn and think) I was back on quicker than a scalded cat.
This yak is a lot heavier and a Little wider, so i am going to have get some practice in.
We all paddled up wind and chewed the fat on the drift,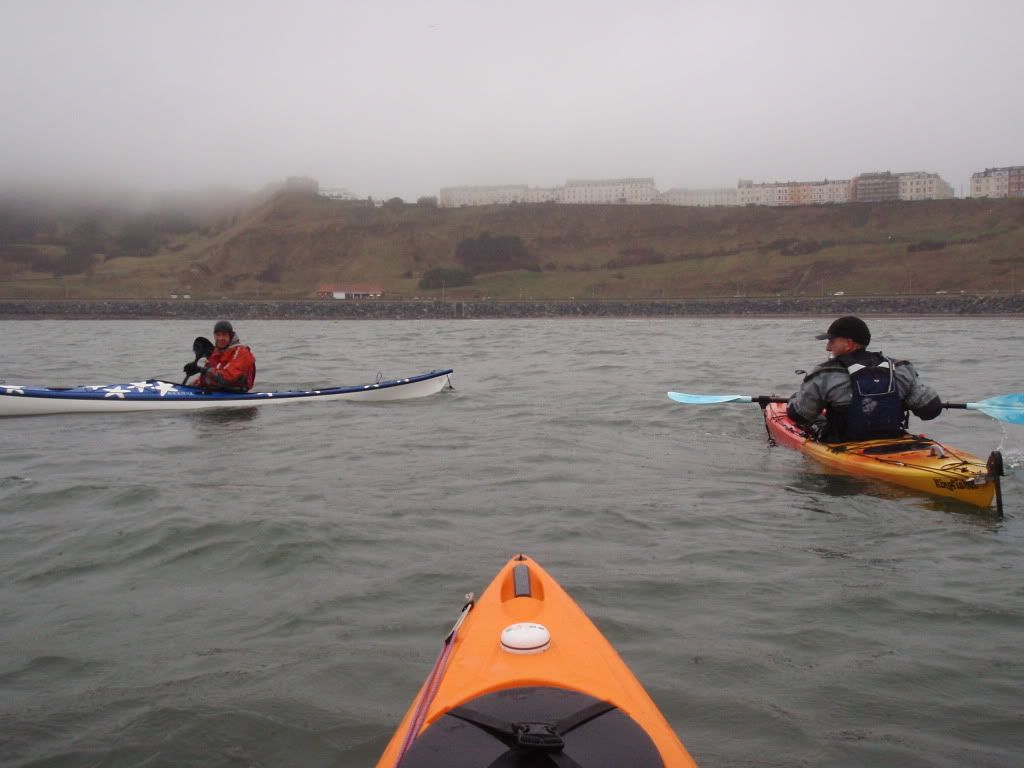 by now we were on the flooding tide and kingfisher on his new ride did a recovery.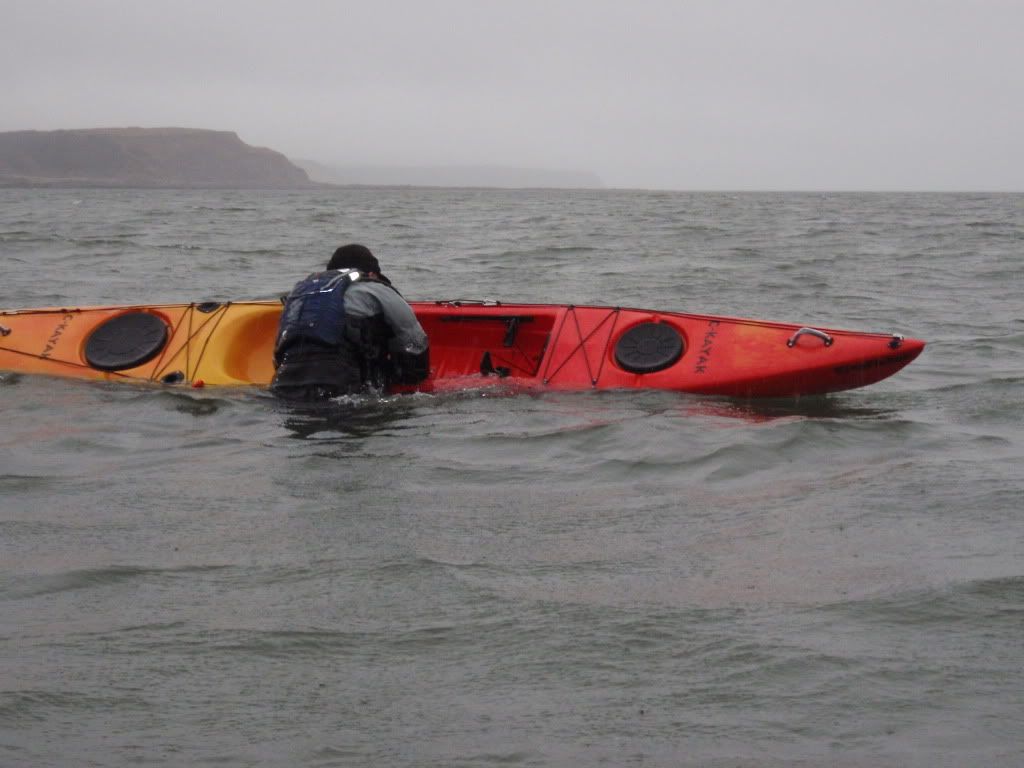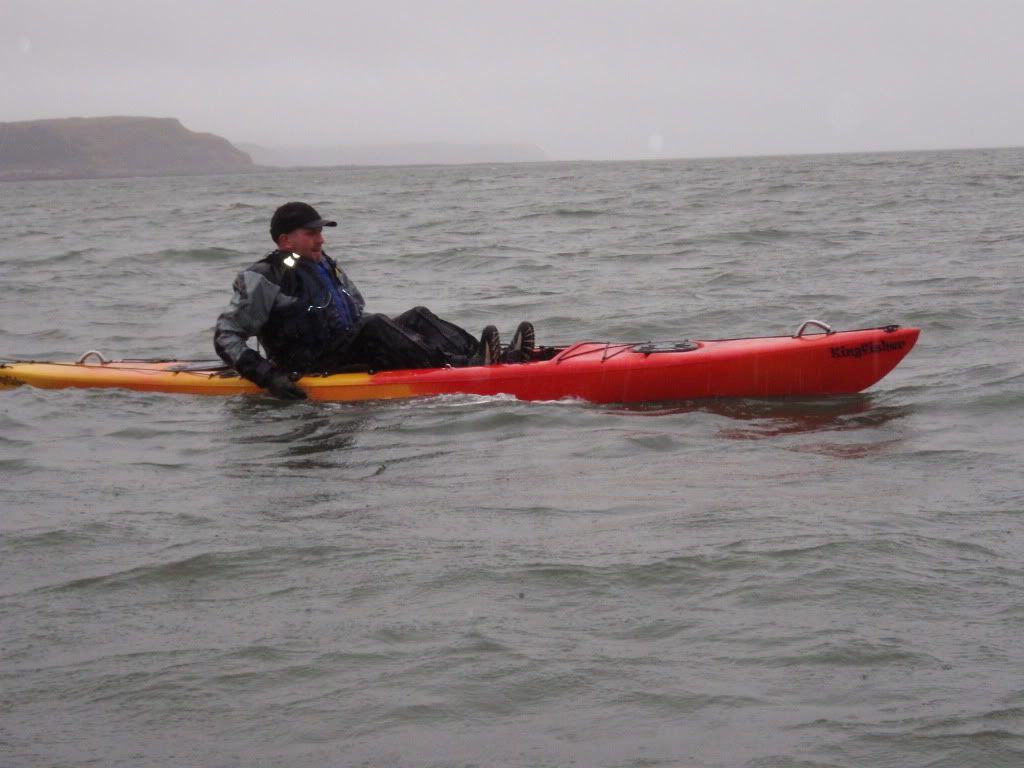 On one or two occasions spawney looked like he was going to do a practice roll in is sink. But that was not going to happen today.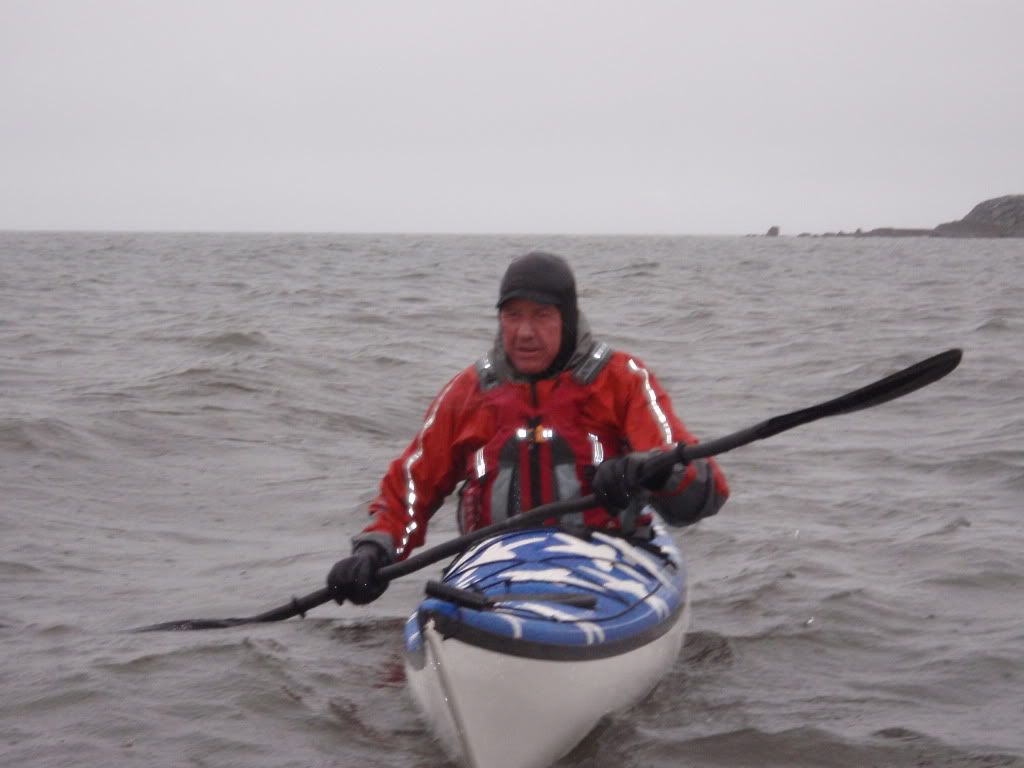 By now it had started to rain again and the sea was starting to chop up so we called it a day and went in.
Coming in on the ultra I had a Little surf on a small wave, and riding it in was fun. I was careful and did not push it to hard just in case.
Now back on the beach had a chat with spawney and he had a look over my yak, commenting on the size. We have now formulated a plan for Guided kayak fishing for the summer, and a team match on Filey brig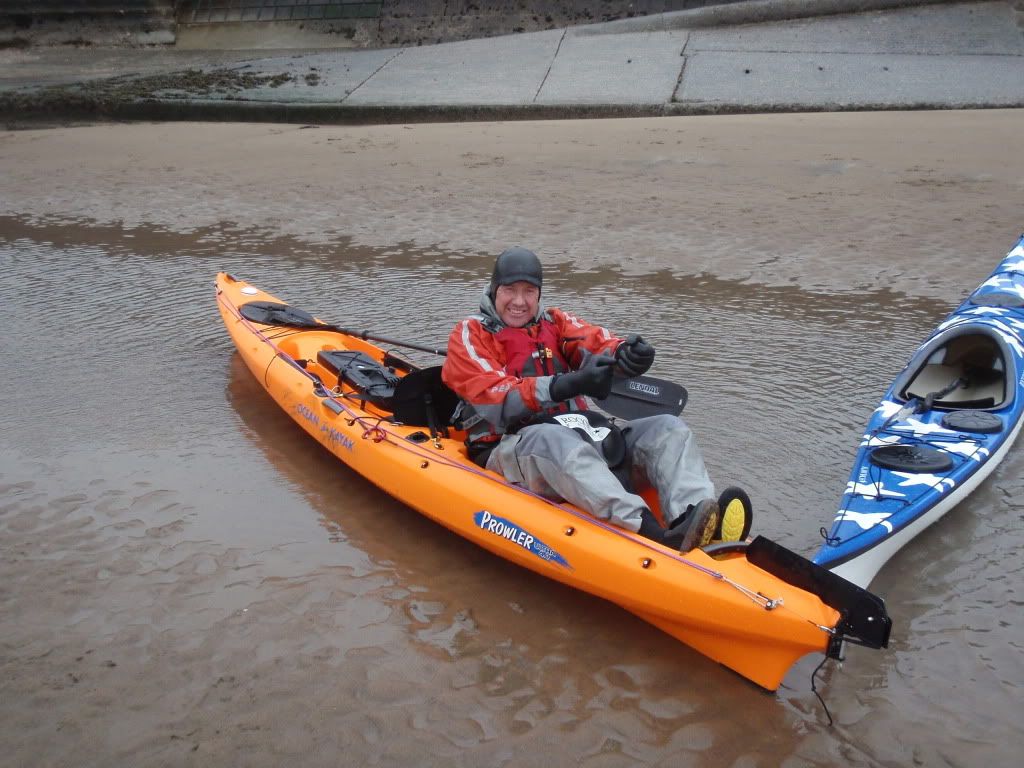 unfit and over weight P.N. Gwin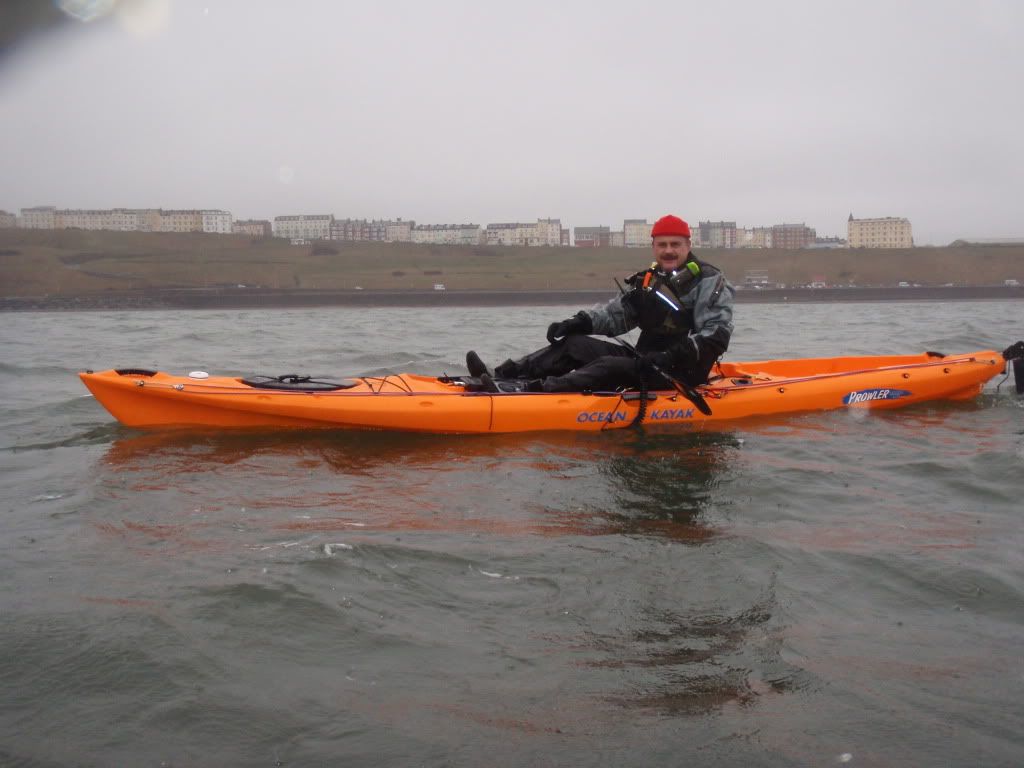 Having done most of the paddling today with the FF down in the center hatch I was amazed to find 1″ of water in there  ???
I quickly came to the conclusion that this can have only got in  through the hinge with the FF down in the hatch on the way out, with the waves came over the bow,  not having flipped it over on the self rescue. This is easily sorted with a squirt of silicone in the hinge.
The ultra is a heavy Kayak, and a bit nose heavy tipping forward, but I have found that with the fixed handles it is easy to top out on my van.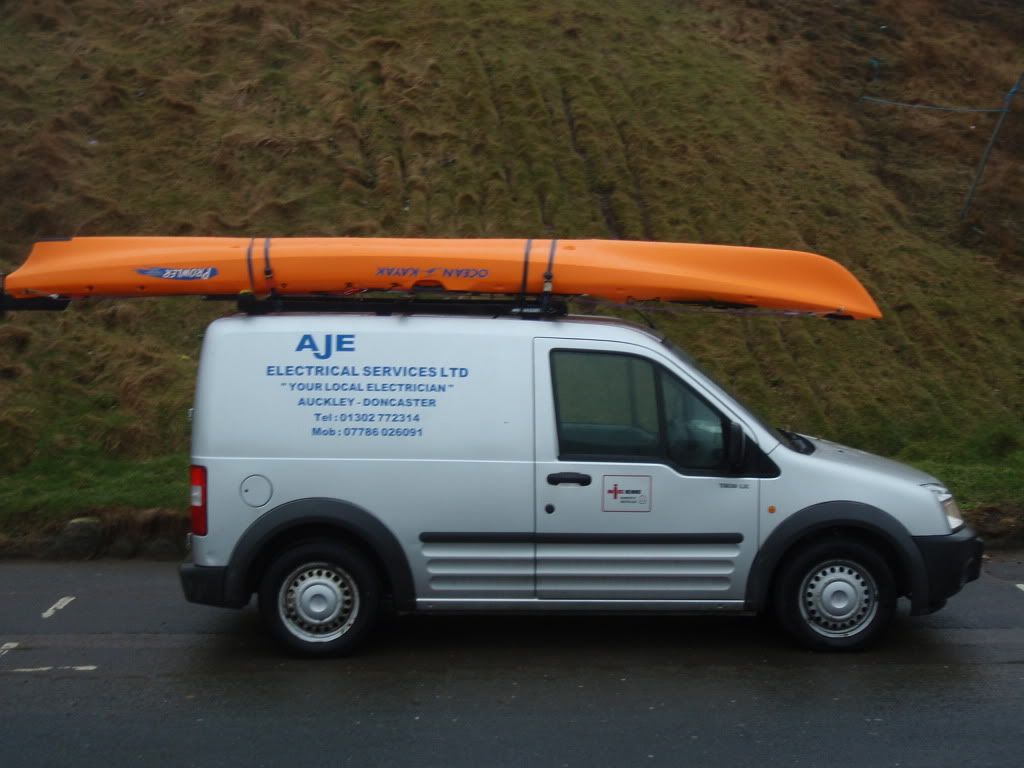 I enjoyed today paddle and it has highlighted a few points with my own fitness and a small niggle with the water ingress.
All will be ironed out over the coming months. The question that some of you will no doubt be asking is faster than the Elite and the scupper.
I Carnot comment on that as I have no experience of them. I will leave that to them that have, other than to say this, in the right hands with good fitness and a good paddling technique it will be hard to beat. PNG