Kaskazi Duo Tandem Kayak
The Kaskazi Duo has been designed to handle effortlessly both on and off the water. Never before has a double kayak offered such user friendly attributes and rough water capability, together with expedition touring range and load carrying capacity.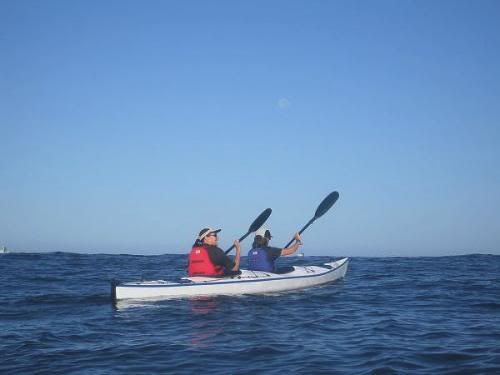 The Duo is only slightly longer than a solo touring kayak, making her easy to transport, easy to carry and easy to store. I carry our Advanced GRP Sandwich Duo and put it on or off the roof rack single handed, there are not many doubles that can boast portability of that nature. The weight of the standard Kaskazi Duo is not much more than many solo tourers. This fact is appreciated by couples, or a parent and child combination, where solo handling might be necessary. If you opt to pay the extra for an epoxy Duo, then you will have a fully rigged, double kayak of similar weight to most single sea kayaks. In this construction she only weighs 26kgs.
The Kaskazi Duo has its cockpits closer together than normal tandem kayaks but without sacrificing legroom, this makes it easy to turn and neutral in high winds as the main bulk of the weight is concentrated over the centres of buoyancy and action. Having paddlers towards each end creates inertia in waves and provides resistance for turning. The Duo avoids this and handles beautifully in any conditions.
The chined V hull is extremely stable and comfortable in big sea conditions. The stability is very welcome for kayak schools and tour operators, who need to build confidence in their clients quickly and yet have kayaks that can be relied upon to provide comfort over long distance touring and expedition voyages or be easy on a day paddle. The Kaskazi Duo was purpose designed for these situations.
The Duo is built with triple bulkheads for additional security and comes fitted with a rudder deployed or lifted by means of an outrigger up/down haul. The foot controlled steering in the aft cockpit is adjustable over a wide range of leg lengths, 6ft 3in is no problem! Deck rigging and two large, well sealed hatches with rubber seals, nylon covers and moulded outer hatch covers as standard. The weights stated are for the fully rigged kayak ready for the water.
The Kaskazi Duo is a mid volume, double sea kayak that is suitable for everything from day trips to extended, open ocean expeditions. This kayak handles brilliantly in rough conditions while still being reasonably fast on flat water. Very stable without being excessively wide in the beam, high payload capability for extended expedition use without getting bogged down and can still be fun in the surf. Easily capable of maintaining 6.5 knots with only half the drag per paddler of a solo tourer going at 5.5 or 6 knots (see table below).
The efficiency of the Duo is down to the slightly rounded mid section for stability, her fine bow for wave cutting and the finely tapered stern section for improved water flow aft. Add to that the low windage and you have a very comfortable kayak with predictable handling in all conditions and an easy cruising speed in excess of 6 knots and capable of over 8 knots for shorter distances. This translates into a kayak that novices appreciate and experienced kayakers enjoy.
Epoxy lay-up
If you take the technology developed for the extremes of Ocean Yacht Racing and high speed powerboat racing and apply it to kayak construction, the result is an extremely stiff kayak with incredible impact resistance and ultimate durability. The increased performance in terms of straightline speed is only marginal, where the extra performance will be felt is in the acceleration, quicker turning ability, immediate reaction to body input and the ability to catch and run with swells. The amazing feel of a truly lightweight and rigid kayak is hard to explain, you have to experience it to fully appreciate the difference.
Features

Type

Double sea kayak

Design

Leon Franken – 1998, Reworked March 2002

Material

Fibreglass or Carbon/Kevlar/Foam Core/Epoxy/Vacuum Bagged

Length

5.9 m

Width

68 cm

Weight

Advanced GRP Sandwich : 32 kgs

Epoxy lay-up: 26kgs

Rudder

YES

Hatches

2

Bulkheads

3

Max. carrying capacity

280 kg

Maximum depth (bow)

0.44 m

Depth at cockpit

0.3 m (average)

Standard Features

Contoured seat for all day comfort. Deck Rigging, Carry Handles, Rudder with uphaul and downhaul, Length adjustable Pedal controlled steering.

?
?
Construction

Hull

Advanced GRP Sandwich construction

Deck

Advanced GRP Sandwich construction

Seam

Bonding of hull and deck, then fitted with both an internal and external seam.

Bulkheads

Flexible fibreglass bulkheads to prevent hard spots in the hull.

Seats

One-piece fibreglass seat, securely bonded in place.

Additional strengthening

Around the carry handles, cockpit area. The bow and stern are massively reinforced to withstand huge impacts.
?
Specifications

Displacement @

180 kg

Length – Waterline

5.85 m

Width – Waterline

67 cm

Length to width ratio

8.8

Centre of buoyancy

3.3 m aft 0

Centre of action

3.35 m aft 0

Draft

0.11 m

Wetted Hull surface

2.8 m2

Prismatic Coefficient

0.57

Block Coefficient

0.38
?
Drag at 200kgs Displacement = full expedition loading

Speed in Knots

2

3

4

4.5

5

5.5

6

6.5

Drag in lb

1.3

2.73

4.69

6.12

8.09

10.84

14.58

17.07