With the inclement arctic weather we've had since the middle of December, the chances of soaking a deadbait for a winter stillwater pike, which is my normal line of attack at this time of year, has been nil.  So with the lakes frozen solid, I've turned my attention to the local rivers, in search of grayling and with a view to christening my new Okuma centrepin reel.
As a member of York Amalgamation of Anglers, I have access to a few stretches of River and fancied my chances on the River Severn, which is a tributary of the River Rye.  Even in its lower reaches, the Severn is a very small river, in many places you could almost leap across it. I'd never fished it before, so it was going to be fun, travelling light and exploring a fresh stretch of River.
I had my first expedition on the Severn just before the Christmas snow arrived.  Armed with a 13 foot match rod, my centrepin reel and an apron pouch holding a pint of mixed red and white maggots, I started trotting a stick float on the first pool I came to immediately by the road bridge which crosses the Severn.  It was quite a pacey but narrow pool at just over a rod length in width.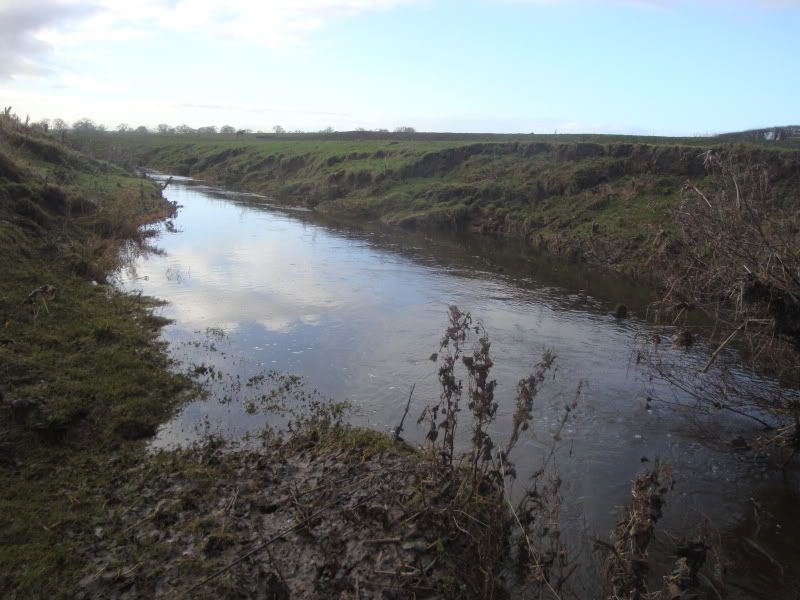 I hand fed half a dozen maggots upstream then followed down the pool with the stick float.  On the first trot, the float swirled round in the current and dragged under as it trotted down the flow.  The bait wasn't over depth, but the small stick float had not got enough buoyancy for the conditions, so I batted the spool of the pin ready to change to an Avon type float, when this little tiddler popped onto the surface!   One of my smallest ever grayling!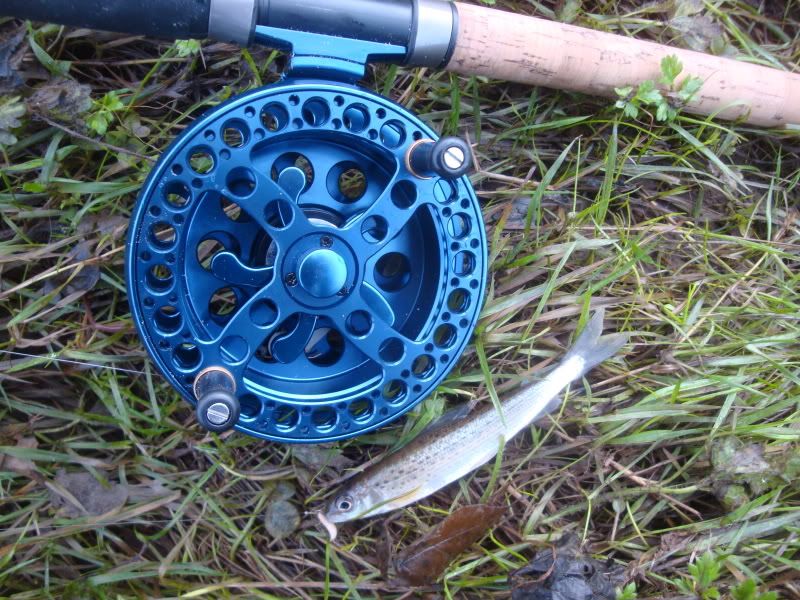 I swapped floats anyway and had another dozen trots through the swim, along with a small amount of loose feed, but nothing else showed.  What I thought was another fish turned out to be tree root, to which I lost my 2lb hook length.  Definitely time to re-tackle and move on!
The next bend looked inviting, a deep channel on the outside of the bend protected with overhanging willows.  Again, first run through and a better grayling this time.  This was looking easy, but as with the first pool, it seemed to be one fish, then the swim went dead…..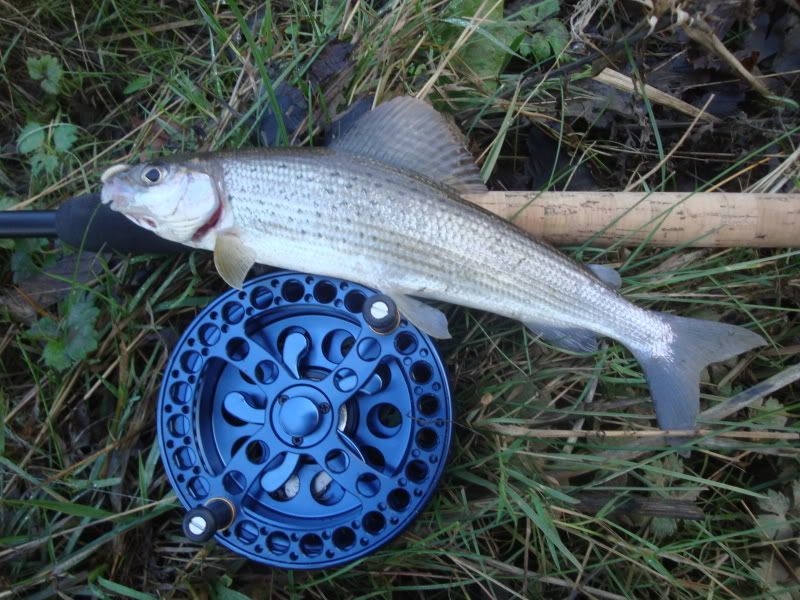 Onwards downstream and another deeper run yielded a two more grayling this time.  I thought it might be fun to film the action, but single handed operation of the centrepin, camera and then winding in proved impossible.  Should have thought that one through really.  Doh!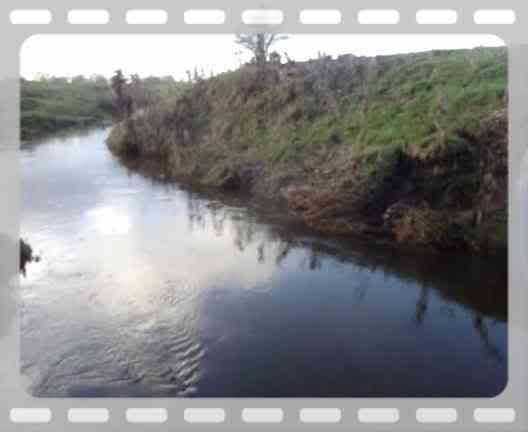 I walked on down the Severn towards its confluence with the Rye. Despite fishing some more likely looking runs and pools I drew a blank, but thought the slack water before the confluence must throw up a fish or two – possibly some chub and dace too.  Here you can see the river Rye on the left of picture with the Severn coming in from the right.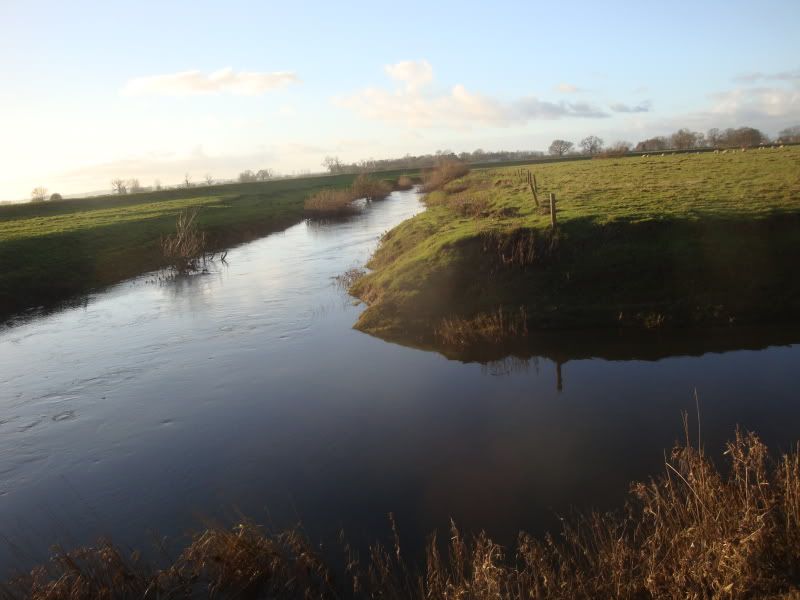 I steadily trickled a few maggots in every third cast, not wanting to overfeed the swim.  After 20 minutes, I still hadn't had even a sniff of an enquiry, so cut my losses and walked back towards my parked vehicle, which was a couple of miles upstream.  I dropped into a few pools on the way back, but with no further joy.  There was a distinct chill in the afternoon air and I guessed I'd had the best of it by that stage anyway.
The next chance I had to fish was on Christmas Eve.  Tim, invited me to join him on his club water further up the Rye.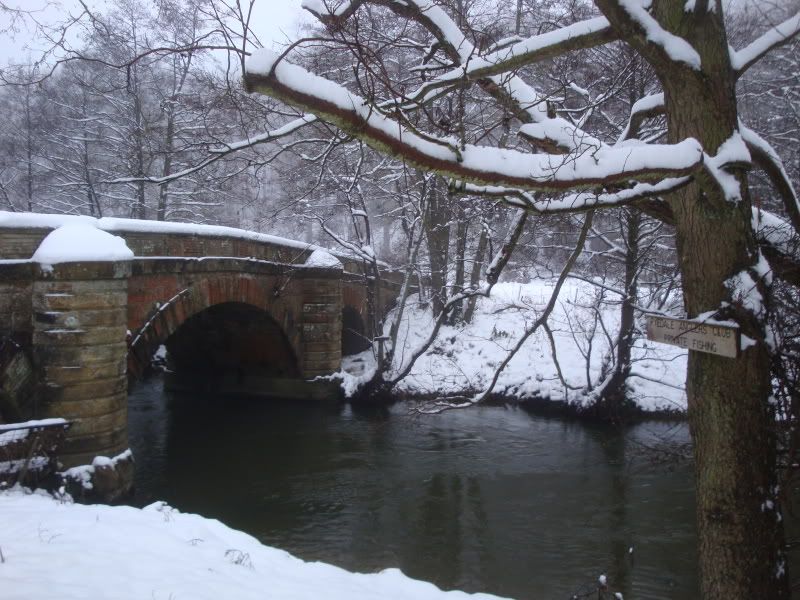 Tim is one of those competitive fishing mates and after water-licking him two salmon to nil on the Tweed last year, he was looking for revenge!   It made me smile when I saw the gear he was using – an old mitchell fixed spool reel but fished on a fly rod, the mono looked pretty stout and coily – surely this was going to be a walk in the park???
This was the pool I started at, a nice clean gravel bottom dropping away into a deeper gulley.  Surely there must be something in residence??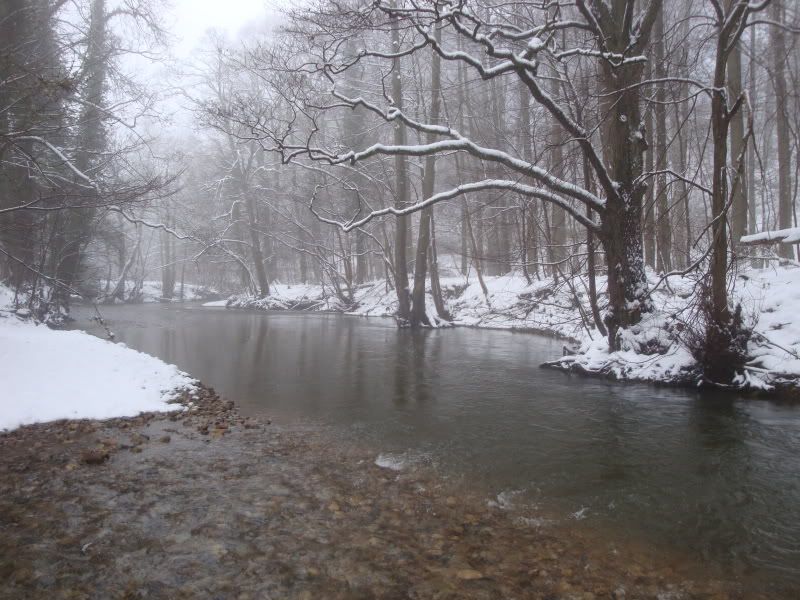 Nope, and neither in this one either.
By the time I had caught up with Tim, I hadn't had a touch but Tim said he'd had five – two trout and three grayling!  Just to rub the salt in further, he was just landing his fifth fish as I walked up to him.
Honour was partially restored when I cadged some of Tim's bait – fresh brandlings from his composting bin.  Clearly these fish had a discerning pallet and my maggots just didn't cut the mustard.  Anyway, the lesson learnt came too late in the day and I was water-licked this time by nine fish to three.
Last weekend Tim rang me asking if I'd like another grayling fishing lesson from him. Cheeky beggar!  I picked him up in my 4×4, as the backroads were still pretty slippy.  This time I made sure I blagged some of his magic brandlings!  We fished further up the Rye this time.
After 10 minutes walking/fishing, I dropped into the tail of a longish run.
First trot through, the float submerged, but my strike met with no resistance, but the worm had gone!   Next time I made sure I was quicker and this time I connected.  By the time Tim had walked past, I'd had 3 grayling and apparently thus far, he'd blanked.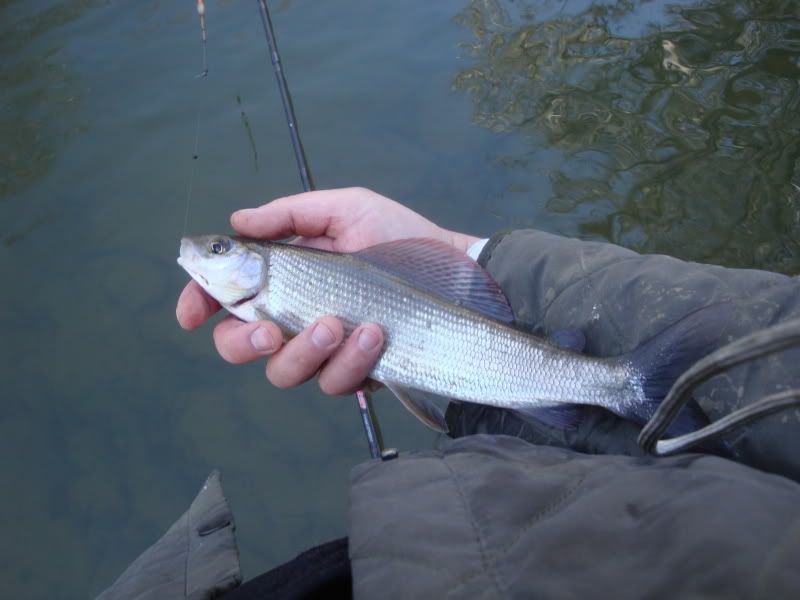 I fished on and nearly every trot through the swim gave another grayling.  In the next 30 minutes I had another 12, making my total fifteen.  The last fish broke the 2lb hooklength as I man handled it lifting it from the river – I really should have use the net.  After that escaped grayling, the swim died and I couldn't get another.  I'd had some nice fish too – this was one of the bigger specimens.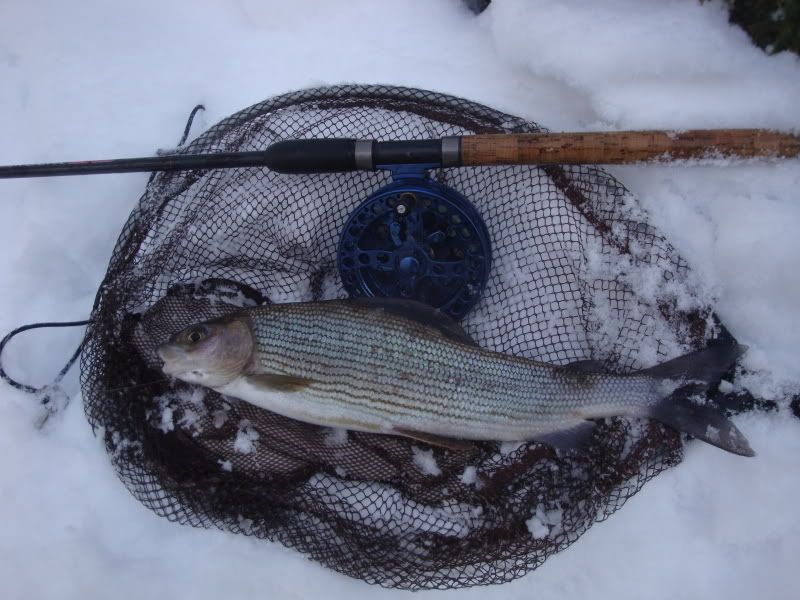 Although sport was fast and furious, it wasn't easy fishing – the rod rings kept freezing up!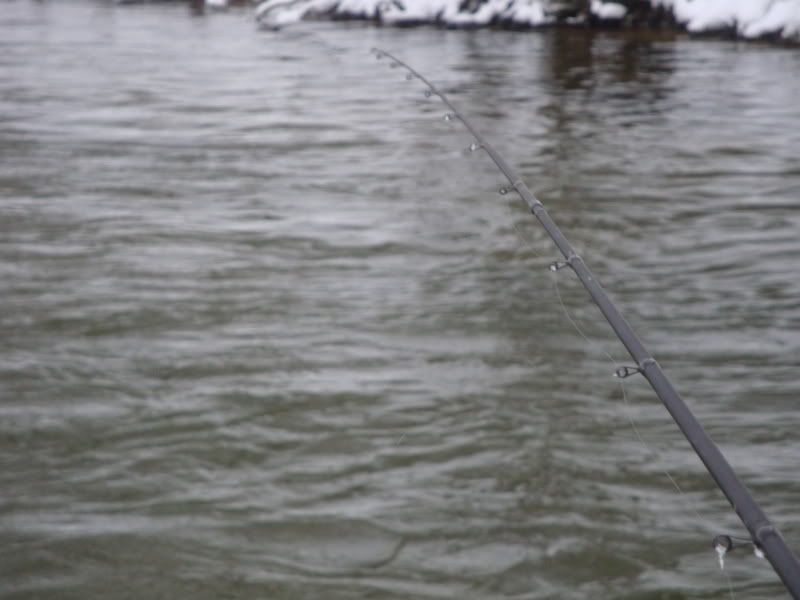 I walked downstream and after trudging through the deep snow in my chest waders finally caught up with Tim who had waded the river and was fishing from the far side most intently.  He hadn't seen me on the skyline, as I had kept back from the bank, so a couple of snowballs lobbed at him had him completely fooled. He kept shouting expletives, but had no idea as to where his assailant was!
I poked my head up over the skyline and Tim said he'd had four grayling. Once he had waded back across, I needed to be in his worm tub again, as I was all but out.  15 – 4 the score then!    We both leap frogged from pool to pool downstream for another 200 to 300 yards, before I said I was going to head back to the run where I'd had a few an hour or so earlier.
It took me at leat half an hour to trudge back to the swim and I managed one more, but by this time it was nearly quarter to four in the afternoon and with the temperature falling, ice in the rod rings was being a complete pain.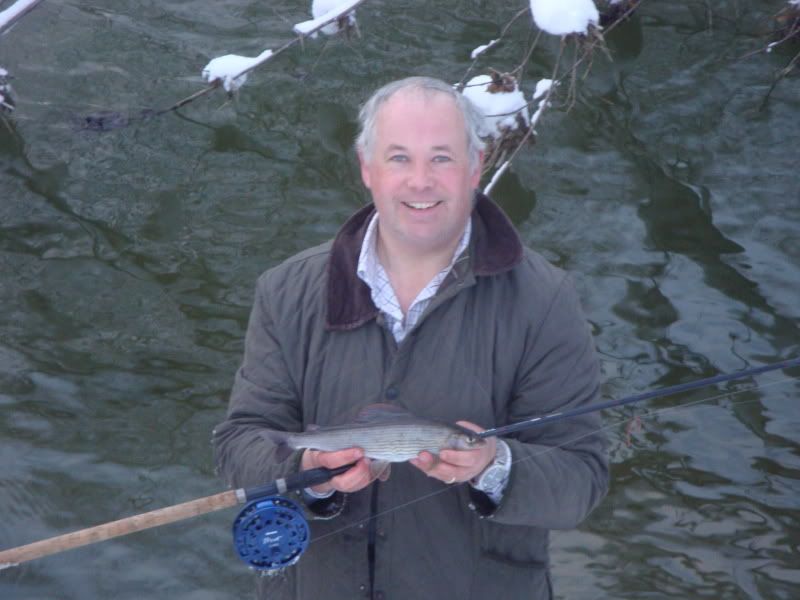 Judging by the shotgun fire further up the valley, The Rieveaux Estate were having a shoot. Then I noticed something floating down the river and it turned out to be a freshly shot French partridge.  Unfortunately, I couldn't quite reach it with my net, but as it was, the score between Tim and I was 16-4 and I don't suppose the partridge, even if I'd netted it, would have counted anyway.