Well with the new Bass season almost upon us, it had me thinking of the "Dark" side of bass lure fishing.
It will be around 3 years now since I was first introduced to fishing for bass with lures after dark.
At first I was very sceptical, It wasn't the fact of fishing after dark, after all I have fished many years for Cod and other species after dark.
But fishing in the dead of night with lures for bass surely this wouldn't work.. or would it.
I must admit to have been given some good information which gave me confidence to give it a go, although in my mind I was far from convinced after all how would a Bass see my lure.
Now my appetite was wetted with the information and the story's and pictures I had seen. I needed to give it a try and so I did and was joined with a few friends who had also heard the story's and fancied a slice of the action.
It seemed strange clambering across the weed and boulder strewn shoreline in the dead of night armed with just a lure rod and reel and a small rucksack with the essentials like lures, scales and camera (Should we be lucky enough to catch)Â  scissors a spare l.e.d head torch and some forceps for unhooking any bass we may catch.
Any true bass lure angler will have the scar's to show just what damage the sharp spines and gill covers can inflict on us even in daylight its not an easy job removing trebles from an angry Bass, so imagine it in the dark.
When arrived at the chosen mark it was calm with just a slight onshore breeze and little waves just lapping the shore.
I turned off my light and sat for awhile listening for any sign's after a short time there was a big splash in amongst the bladderwrack weed literally about 10 yards from me, It can't of been in no more than a foot of water.
I had to give it a go with my eye's now adjusted to the little natural light there was to be had, I made my way steadily to the waters edge.
I could just make out there was a bed of bladderwrack weed on my right where I heard the splash, this was to shallow to chuck my lure into but my thoughts were when the tide pushes a little more I will work my lure over the top of that bed of weed once it was covered by enough water.
Success did not come straight away and doubt started to creep in.. Was that splash I heard a bass? Was there any bass around? Could they see my lure? was i retrieving to fast or to slow?
So many questions I asked myself but I had no answers. I was lost in thought going through the motions casting and retrieving, the tide had now flooded enough to take a chance running the lure over the top of the weed bed.
Well i cast as far as i could to were I pictured the now covered weed bed to be and started to retrieve and just as i was about to lift the lure to recast there was such a splash as a bass grabbed it at my feet..
Suddenly I felt so awake and switched on even though the watch said 2am, the bass put up a good fight trying its best to snag me in the weed bed but after a short fight I had my first night time bass at my feet of around 3lb 8oz.
Since that night we have had so many magical nights fishing, some so hectic you would swear there was hundreds of bass just waiting to hit your lure. But then again we have also had nights when they just don't turn up at all, but I guess thats fishing.
My good friend John Powson caught this super 10lb bass on a lure on his first ever night lure fishing session with me…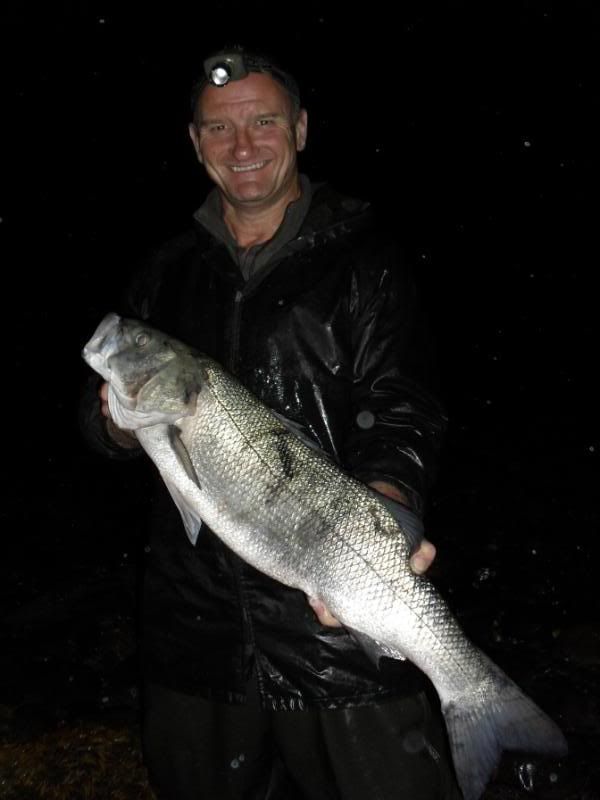 Forum member speno with a fine night time bass..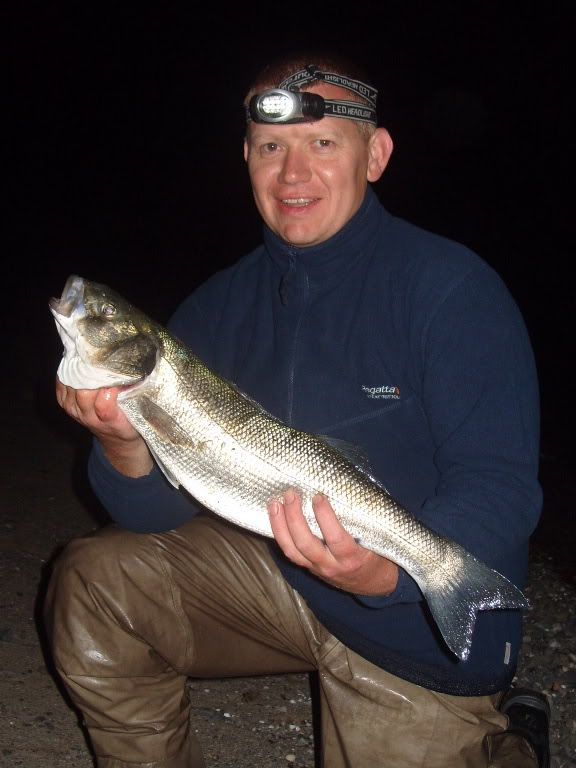 Andrew Ariss catches his first night time bass.
Martin and Lee get a double hook up..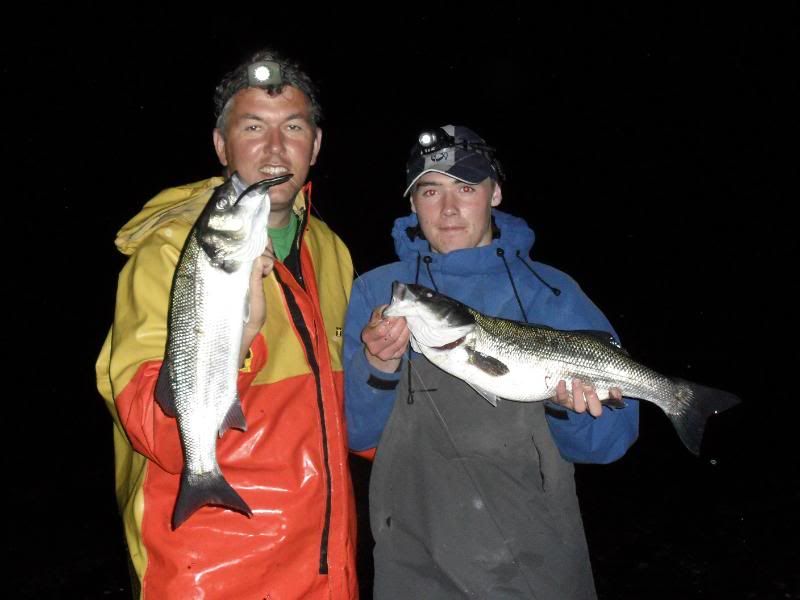 I don't like low or high water, i like the tide pushing or ebbing hard. Most of the better bass we have caught have came after dark and as for lures we have caught on Plugs mostly shallow diving or surface because of the shallow ground we tend to fish. Jellyworms, Shads, Redgill eel's, and other various soft plastic's..
Me and Forum member Andy (Shadrap) get a double hook up on a night time bass lure session..
Forum member Lee (brocky) gets some night time bass action..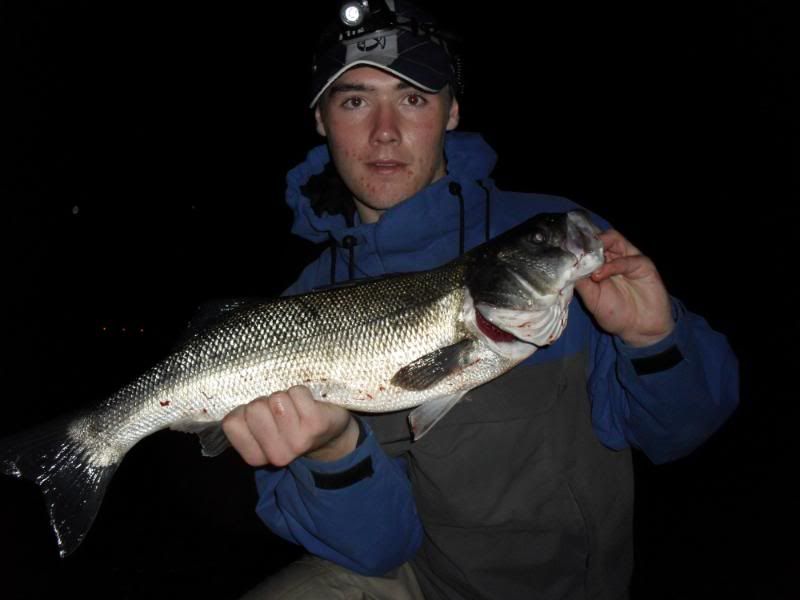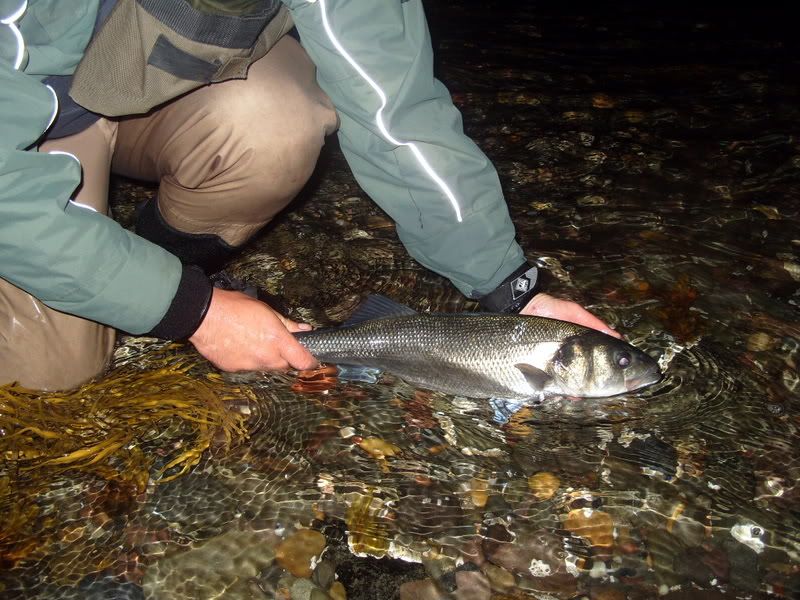 My Mate Anth finds a good bass on a lure after dark..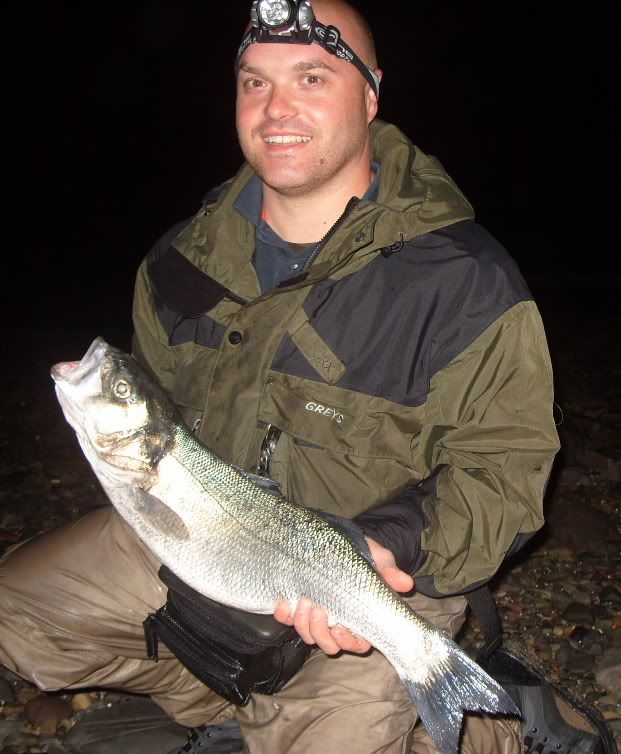 One interesting thought and the forum members who have fished with me will vouch for is that black lure's tend to out fish others after dark, we will often take a black marker pen and colour in lures. I have heard black gives the best silhouette against a dark sky but I am not sure, but if true maybe that's why.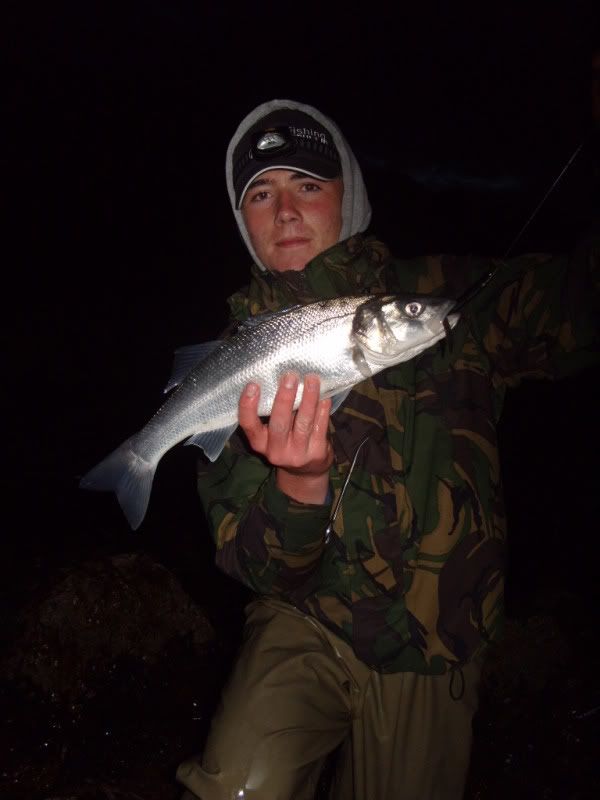 Forum member and good friend Harry with a 13lb bass on a lure after dark.
Matty Lamb looks pleased with this cracking bass..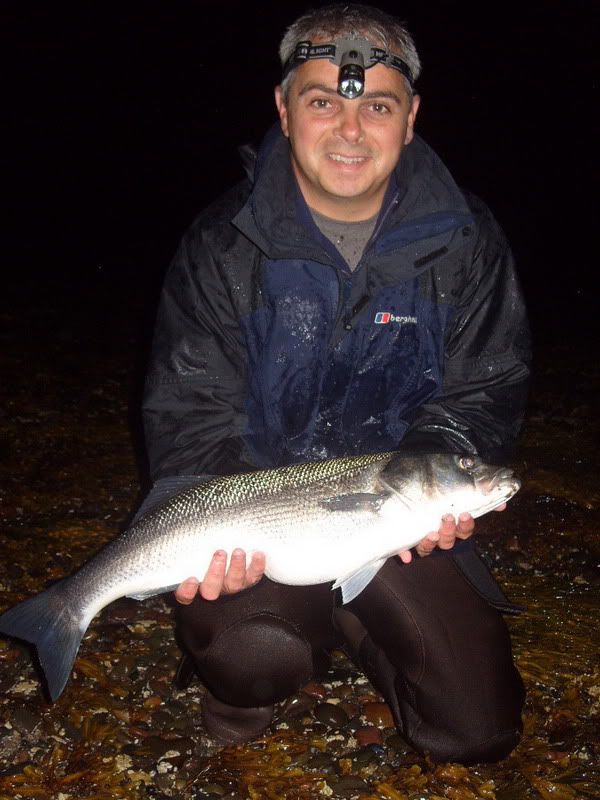 Can't be that hard even I can catch em..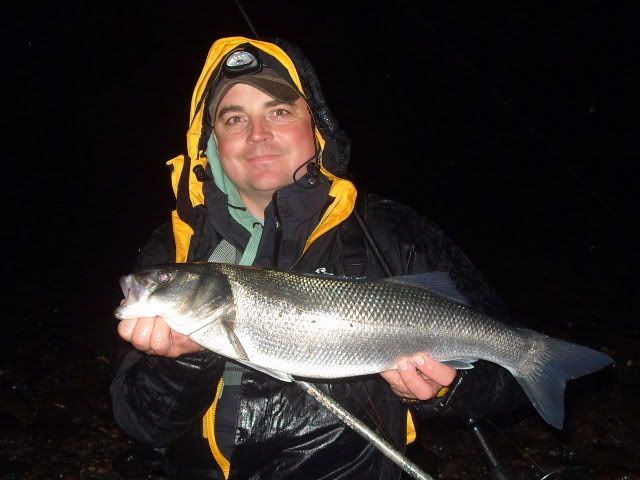 Sam and Matty enjoyed there night time bassing.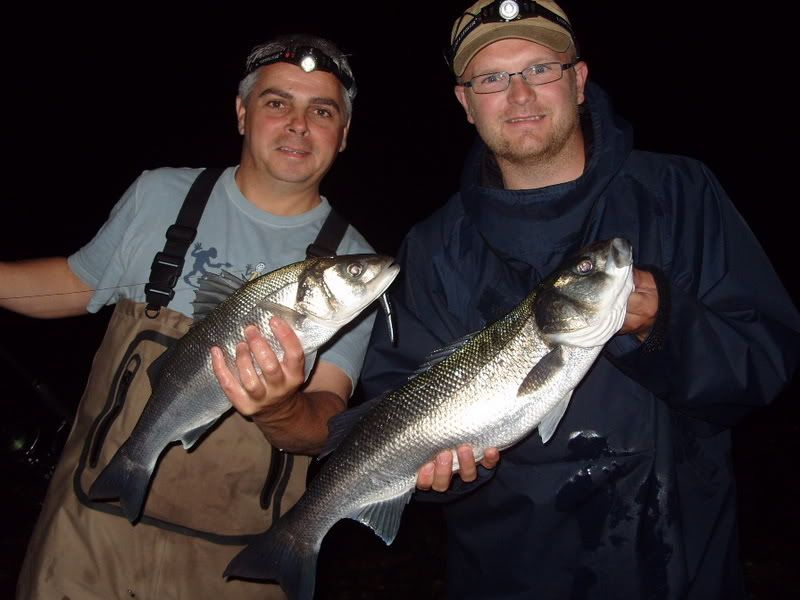 Fishing lures after dark for bass has given me and my friends so great fishing and some fantastic memories and hopefully many more to come.
If you haven't tried it give it a go.
Tightlines!