Many of you will know that I am not the greatest fan of my C-Tug ???  Partly down to some bad design features, partly because  I have rigged my PBG with motor and batteries ( so it is heavy ) and partly down to the places where I use it (step uneven river banks) All of which cause me, at best frustration and at times fits of rage as the C-Tug keeps slipping from under my BGP, spilling all its contents >:(
I have vowed on many occasions to build my own trolley and although I have seen some good examples of DIY none fulfilled all my needs.
While helping out at Llangorse a few weeks ago, I noticed how easy the dinghies were being launched and retrieved using a simple dolly……………….so I hatched a plan!
First I had a look on the internet and came across this, which I shamelessly copied ;D
First job was to make some 12mm thick MDF templates and with the aid of a bearing guided straight cutter
in my router table
I turned two black nylon chopping boards  (£2.93 each from Ikea) into  2 front braces, 2 axle braces and 4 kayak supports.
With a hacksaw, file and a cordless drill I  attacked 4 mts of 32mm box alli (£25)  I then bolted on the nylon parts using S/S machine screws (£4) a rubber bow stop (£3), a bicycle handle grip (£2), a couple of straps (£2) and 2 wheels that I already had, I turned it into on of these!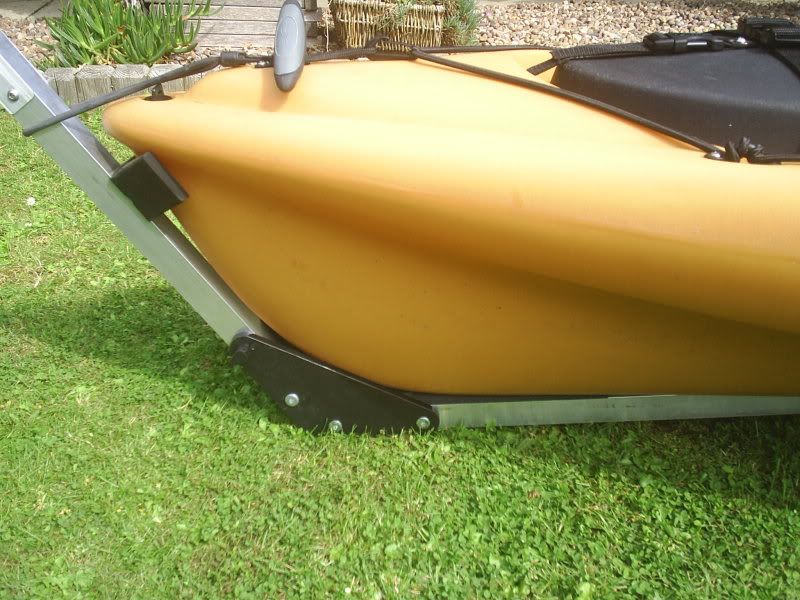 That was the easy part ;DÂ  the next bit was to make it all fit into the centre hatch along with the motor battery.
The front handle folds flat.
The rear axle pivots
and the centre shaft breaks apart at two places, making the whole thing stowable
Everything, including the wheels fit inside the front hatch.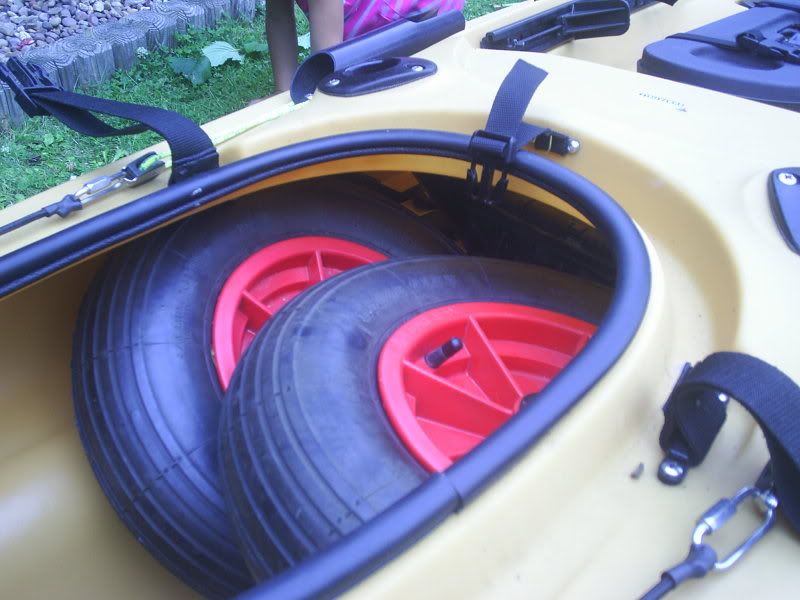 Because of the way the kayak sits on the trolley, it pretty much self centres, the strap is there just to stop it slipping off as I go up and down the step river banks. By holding the handle I can drop the wheels into the water and launch the kayak directly from it. Recovery is equally as easy.
I am not claiming this to be the ultimate kayak trolley, it is bigger, slightly heavier and takes more time to assemble than the C-Tug but the ease of use and its stability make up for its failings. As such it is far more suitable for my needs and at £42.00 its a fair bit cheaper too 😉